New Products Overview - January 2019
Posted by Jason Jaeger on Feb 26th 2019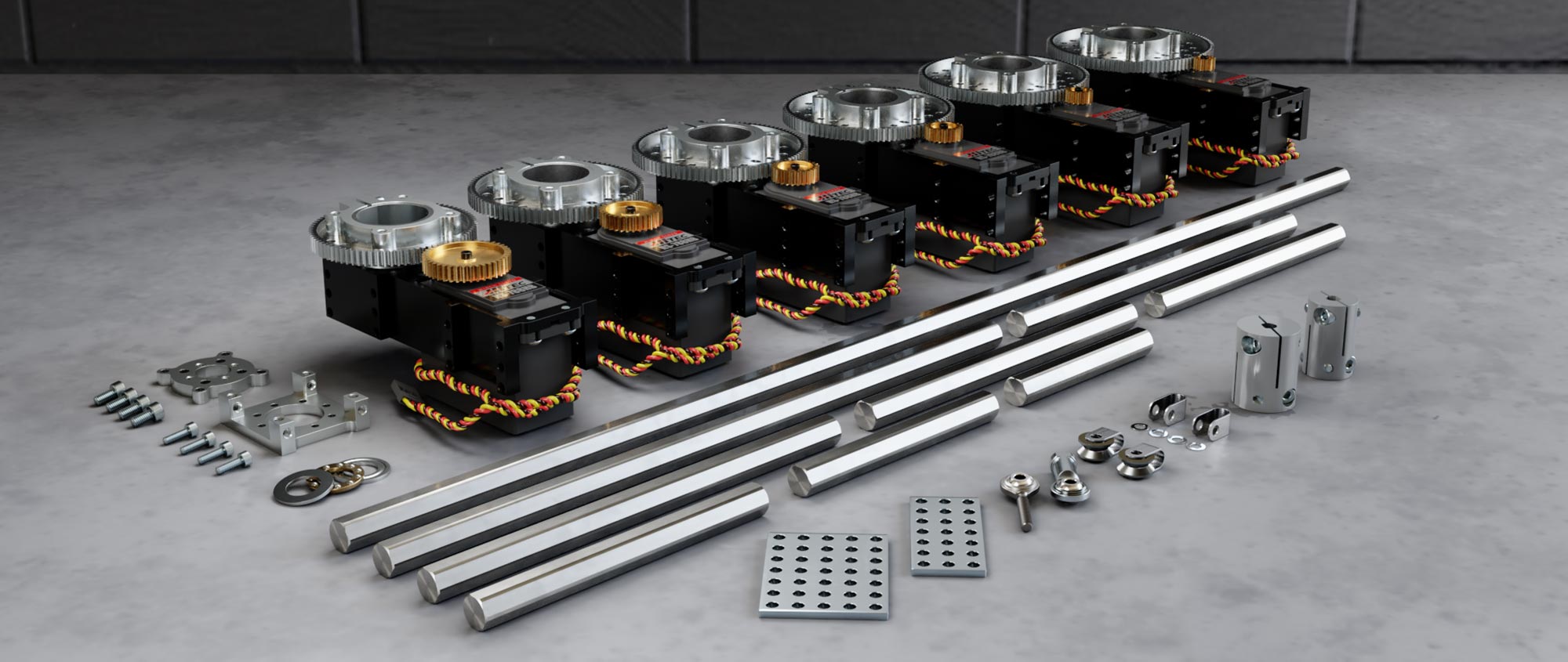 Here at goBILDA, the right way to ring in the new year is with new products! This January we brought in 26 new SKUs. Keep reading for a brief breakdown of what's new.
When working with our synthetic cable you will appreciate our new V-Groove Pulley (3408-0001-0001). It uses a V-Groove Bearing inside of a Steel Pulley Shield to create a smooth and strong pulley. The steel shield can also be purchased separately (2914-0002-0001).
For those of you coming over from Actobotics, we've created a new Pattern Adaptor (1206-0016-0004). As the name implies, it lets you adapt Actobotics components to goBILDA components. Speaking of compatibility, the next product out of the gate was a Quad Block Motor Mount (1702-0032-0002) which allows you to a mount NeveRest Orbital Gear Motor or a REV HD Hex Planetary Gear Motor to your goBILDA project.
Next we released the 3206 Series Servo Gearboxes. They use a Hitec HS-788HB Servo (an 8 turn large scale servo). The servo is encased in an aluminum exoskeleton and geared down for added strength and precision. They launched with six gear ratio options from 2:1 to 9:1.
We took the hyper-awesome, hyper-clamping design of the Hyper Hub and transferred the concept to a new series of couplers called the (you guessed it) Hyper Couplers. Like their hub brethren, they are balanced and heavy duty. The two inaugural SKUs take you from 6mm D to 8mm Round (4006-0008-1006), and from 6mm D to 5mm Hex (4006-1006-2005).
Continuing the theme of heavy duty and balanced, our 12 Diameter 2102 Series Stainless Steel REX Shafting went from pre-order to in-stock this January. It is hard to appreciate the beauty, strength and balance until you get one of these bad boys in-hand. There are nine lengths available from 80mm up to 600mm. Our 12mm REX Shafting is awesome, but so are thrust bearings - and now you can use them together with our new 12mm ID Thrust Bearing (1613-0521-0012).
Ball linkages are a great way to help transfer motion from your servo. Now we have two steel ball linkage options - one with a female shank (2913-0004-0241) and one with a male shank (2913-0104-0294).
Sometimes you want a little extra strength in your grid plates, especially when spanning the groove of goRAIL. Now we offer two sizes of Steel Grid Plates to serve those needs.
As always we are continually working on new products and have exciting things coming down the pike so stay tuned!