New Products Overview - June-July 2019
Posted by Jason Jaeger on Aug 9th 2019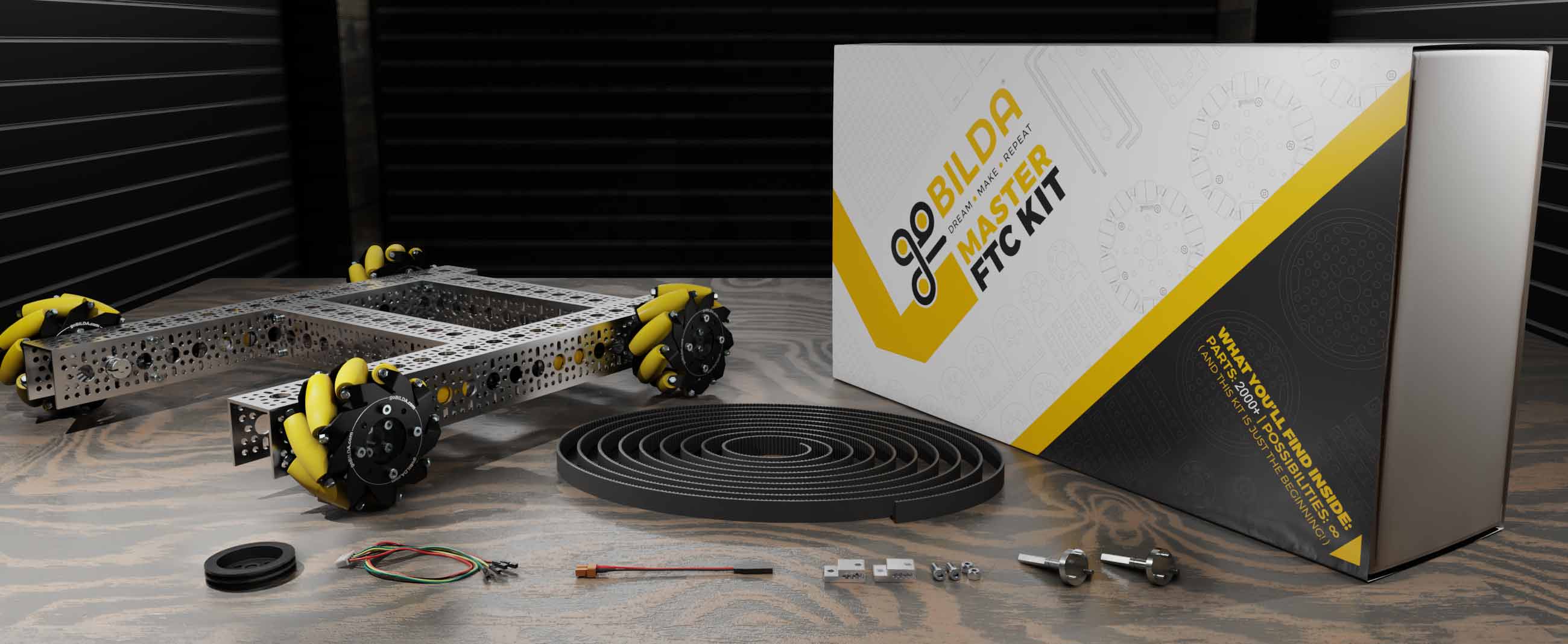 I'm going to jump right in with the big-ticket item released last month. We were very excited to launch the Strafer Chassis Kit ( 3209-0001-0002). This chassis kit lets you get your holonomic drive on with the new goBILDA mecanum wheels! It also includes four Yellow Jacket Planetary Gear Motors that nest in the frame's channel and drive the mecanum wheels through a bevel gear train. The goBILDA mecanum wheels are also available as a set (3213-3606-0001) and individually (3606-0000-0100 and 3606-0100-0100).
Next up, we updated the goBILDA Master FTC Kit ( 3200-0001-1920) for the 2019-2020 season. The primary additions were related to wiring of the motors. In previous years, there were a few controller options and for that reason, we decided to leave motor wiring components out so that teams didn't end up with incompatible parts. Now that all teams must use the REV hub, we've included the encoder cables and motor cables needed to connect your Yellow Jackets directly to it.
Our new timing belt clamp ( 3409-0001-0001) is next on the list. It attaches to the ends of a cut 3mm HTD pitch timing belt. This lets you mount the end of your timing belt to a goBILDA component, or connect two cut ends. We also released a 5m long cut timing belt (3406-0015-0005) to use on larger projects or just cut down to the length you desire.
We also released a servo mount winch pulley ( 3410-0025-0038) for servos with a 25 tooth spline. It is a dual spool pulley so you can pull in one line while letting out another.
To make your wiring life easier we've launched an encoder breakout cable ( 3801-0920-0300) which plugs into the encoder on 5202 or 5201 series gear motors and terminates in male jumper wires. If you are working with an Arduino, this encoder cable allows you to plug the encoder directly to it. We also added an XT30 to TJC8 adaptor (3801-0222-0060). Many batteries have a servo-like TJC8 connector. This adaptor lets you plug those batteries into XT30 ports.
Last but not least, we've started offering replacement output shafts for our 5202 Series Yellow Jacket Planetary Gear Motors. The pin spacing will differ depending on which gear ratio you are using, so just check the "Related Products" section of the motor's product page for the matching replacement shaft.