New Products Overview - September 2020
Posted by Jason Jaeger on Oct 16th 2020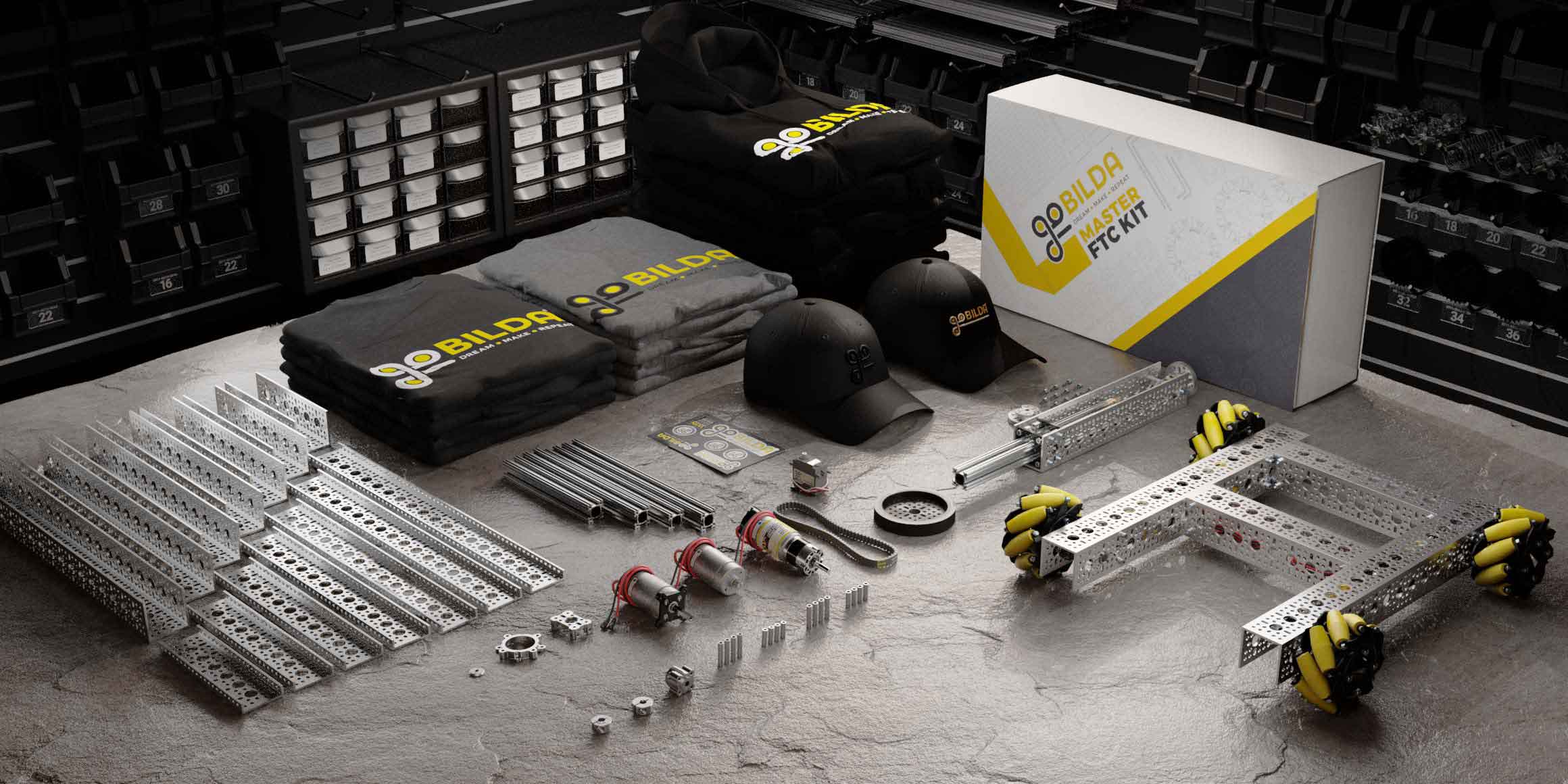 September was a big month for us in terms of number of SKUs launched on goBILDA.com. There were so many exciting releases! Here is an overview:
New goRAIL Lengths
Sure you can cut goRAIL and tap the holes yourself but part of the beauty of a build system is the convenience of not having to machine parts. Here are the lengths we launched:
New U-Channel Lengths
goRAIL is not the only series that got a boost of length options. Our 1120 Series U-Channel also received quite a few new lengths! We are especially excited for the 10 Hole option for chassis!
New Low-Side U-Channel Lengths
Everybody loves Low-Side U-Channel, so we could not leave it out of the new-length party.
Master FTC Kit for the 2020-2021 Season (3200-1006-2021)
It is hard to appreciate how massive this kit is until you pick one up (it is about 25lbs of awesomeness). This year we went back to the drawing board on our pick of parts for the annual FTC Kit. We shifted a bit away from being a variety sampler of the build system as a whole and focused more on being able to build a chassis from the kit and still have plenty of parts left over for "super structure".
Merch
We have received so many requests for goBILDA merch that we could not hold out any longer. We may well introduce more down the road, but we are really happy with this offering as a start :)

Super Speed Servo (2000-0025-0004)
Our Super Speed Servo clocks in with a max speed of 290RPM. Like the other goBILDA 2000 Series Servos, the Super Speed offers both a continuous mode (great for intakes or very small chassis) and a standard closed feedback loop mode (which provides up to 300 degrees of rotation).
Modern Robotics/MATRIX 12VDC Motor with 17 Tooth Gear (5000-0002-0117)
This is the motor that powers our Yellow Jacket Planetary Gear Motors with a 17 Tooth pinion gear on the output shaft. That pinion gear makes it easy to use this as a replacement part for a number of our Yellow Jackets (check the product page for a list of which ones).
14mm to 1/4" Hole Reducer (2904-1025-0014)
This steel hole reducer allows you to utilize 1/4"-20 bolts (which are commonly used in the world of photography for mounting cameras) to fasten things to goBILDA components which have a 14mm hole. It is also useful as a stop-plate for a 6mm thrust bearing; the 1/4" bore is just large enough to let a 6mm shaft pass through untouched.
Strafer Chassis V2 (3209-0001-0002)
While we now have a V3 of the Strafer Chassis which use our newest mecanum wheels, we opted to release a short-lived version of the Strafer which upgraded the gears to steel miter gears and adjusted the overall width to take it from just barely within 18" to very clearly within 18". While we knew it was not the final iteration we felt the improvements made it worth the effort until our new mecanums were ready to roll.
96mm Diameter Thin Rhino Wheel (3612-0014-0096)
Our Rhino Wheels are awesome but sometimes you need a more compact solution. Thin Rhino Wheels offer the same rugged construction with half the width of the standard Rhino Wheels.
84 Tooth 5mm HTD Timing Belt (3412-0009-0420)
In the spirit of filling out the product line we added this length of 5mm HTD timing belt. And hey - it comes with our logo printed on it which is pretty spiffy.
19mm Length Spacer (1502-0006-0190) and Standoff (1501-0006-0190)
When boxing Low-Side U-Channel, 19mm is the inside-wall to inside-wall distance. This spacer and standoff make it easy to create the most compact boxed Low-Side U-Channel assemblies possible.
27mm Length Standoff (1501-0006-0270), Spacer (1502-0006-0270), and Quad Block (1201-0027-0001)
This grouping of products also help you make Boxed Low-Side U-Channel - but gives you more space down the center as compared to going with a 19mm wall-to-wall spacing. Both these 27mm options and the 19mm options mentioned above keep your build on-pattern.
32mm Bore Counterbored Pattern Spacer (1517-0032-0080)
If you have seen our 1505 Series Counterbored Pattern Spacers, this will look familiar to you. The obvious difference being size. This guy has a 32mm bore and the mounting holes are on the 32mm Pattern.
1:1 Ratio Motor Options
We released two different products which are driven without gear reduction by the FTC Legal Modern Robotics / MATRIX Motor and are easy to mount to and use with goBILDA. But we wrote a whole blog post just about them so go check that out!
Housekeeping
There were also a handful of running changes that were made during this time as well. For example, we continued our march towards giving all hubs a 2mm (instead of 1mm) protrusion with the 1310-0016-1006. The 2910-0920-4008 8mm REX bore clamping collar replaced the 2910-1020-4008 - it has a 0.5mm instead of 0.25mm built-in shim. The 3504-0804-2109 8mm Lead Screw Clamping Collar replaced the 3504-0804-1808 because it rocks an M4 (instead of M3) pinch bolt. And the 3212-0001-0001 Linear Actuator Kit inherited that new 8mm Lead Screw Clamping Collar.